Product Overview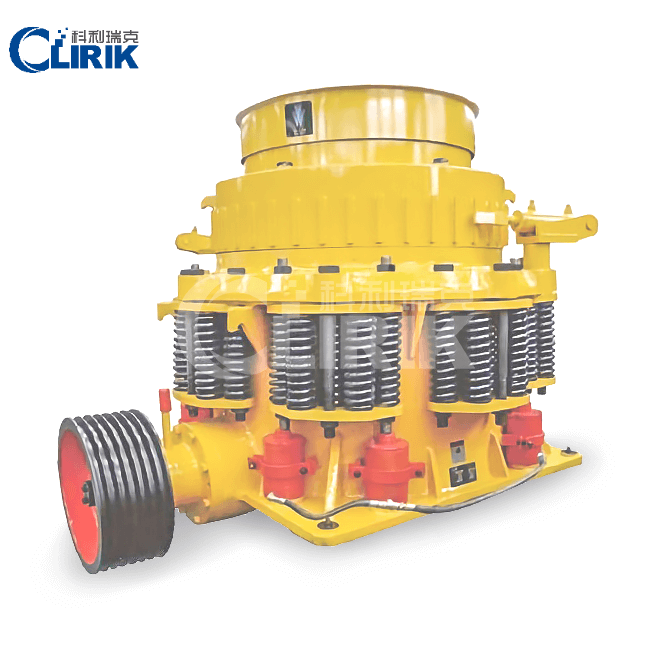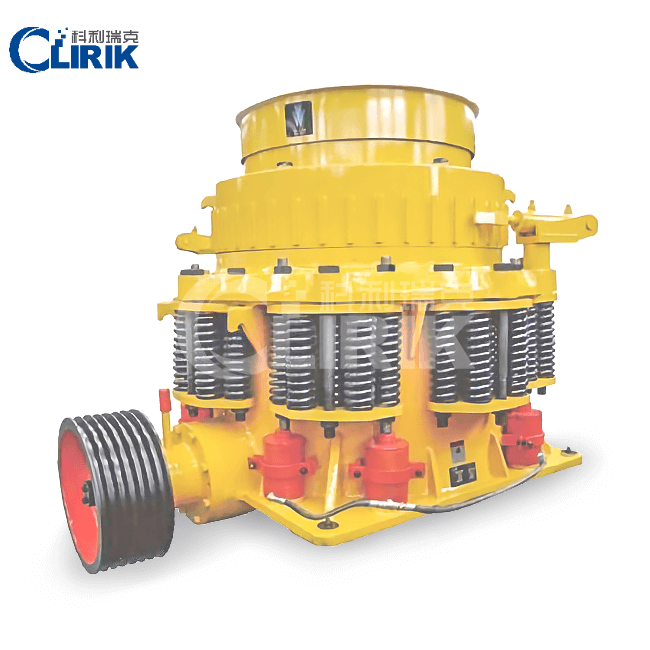 PY Series Cone Crusher 
Processing ability: 5-750 t/h
Fineness: 3-100mm
Max feeding size: 300mm
Range of application: Limestone、 Soil、Coal、 Slag、Iron ore、Copper ore、 Manganese ore、 Refractory material、Glass…
Product Parameter
| Model | Diameter of Bottom End of Conical Crushing Head(mm) | max feeding size | adjustment range of discharge opening | capacity(t/h) | power | Rev. of Eccentric shaft | weight (T) | Overall dimension(mm) |
| --- | --- | --- | --- | --- | --- | --- | --- | --- |
| PYB600 | 600 | 75 | 12-25 | 40 | 30 | 356 | 5 | 2234 × 1370 × 1675 |
| PYZ600 | 600 | 35 | 3-13 | 5-23 | 30 | 356 | 5.3 | 2234 × 137 × 1675 |
| PYB900 | 900 | 115 | 15-50 | 50-90 | 55 | 333 | 11.2 | 2692 × 164 × 2350 |
| PYZ900 | 900 | 60 | 5-20 | 20-65 | 55 | 333 | 11.2 | 2692 × 164 × 2350 |
| PYD900 | 900 | 50 | 3-13 | 15-50 | 55 | 333 | 11.3 | 2692 × 164 × 2350 |
| PYB1200 | 1200 | 145 | 20-50 | 110-168 | 110 | 300 | 24.7 | 2790 × 1878 × 2844 |
| PYZ1200 | 1200 | 100 | 8-25 | 42-135 | 110 | 300 | 25 | 2790 × 1878 × 2844 |
| PYD1200 | 1200 | 50 | 3-15 | 18-105 | 110 | 300 | 25.3 | 2790 × 1878 × 2844 |
| PYB1750 | 1750 | 215 | 25-50 | 280-480 | 160 | 245 | 50.3 | 3910 × 2894 × 3809 |
| PYZ1750 | 1750 | 185 | 10-30 | 115-320 | 160 | 245 | 50.3 | 3910 × 2894 × 3809 |
| PYD1750 | 1750 | 85 | 5-13 | 75-230 | 160 | 245 | 50.2 | 3910 × 2894 × 3809 |
| PYB2200 | 2200 | 300 | 30-60 | 490-750 | 260-280 | 220 | 80 | 4622 × 3302 × 4470 |
| PYZ2200 | 2200 | 230 | 10-30 | 200-580 | 260-280 | 220 | 80 | 4622 × 3302 × 4470 |
| PYD2200 | 2200 | 100 | 5-15 | 120-340 | 260-280 | 220 | 81.4 | 4622 × 3302 × 4470 |
Product Introduction
Base on the latest technology and decades of years' producing experience, Clirik designed the PY series cone crusher. It has excellent crushing efficiency and good hydraulic control system.
PY series cone crusher is applied to cement mill, mining, building construction, road &bridge construction, railway construction and metallurgy, and some other industries. Materials like iron ore, granite, limestone, quartzite, sandstone, cobblestone, and some others are easily crushed by cone crusher.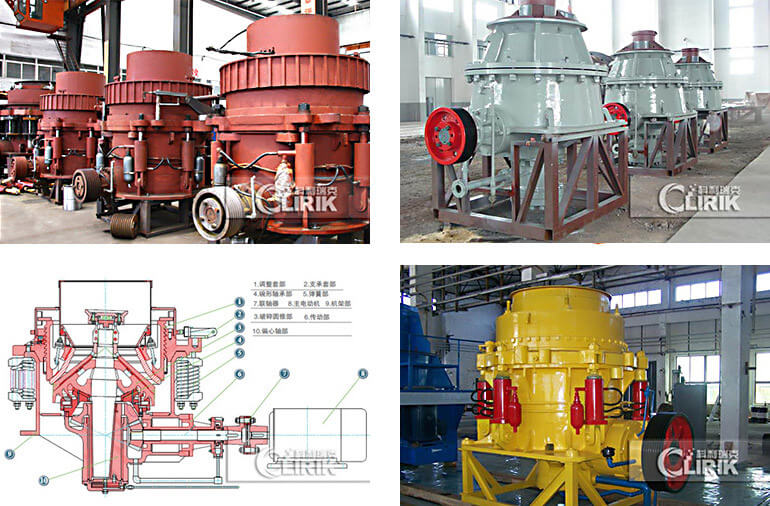 Working Principle
PY series cone crusher when working,The motor drives the eccentric sleeve to run through the elastic coupling, transmission shaft and a pair of bevel gears, forcing the main shaft in the eccentric sleeve to drive the crushing wall to do a swinging motion. Make the broken wall sometimes close to the rolling mortar wall, and sometimes away from the rolling mortar wall,The material is continuously crushed, bent and impacted in the crushing cavity to be crushed. The crushed material is discharged from the bottom discharge port under the action of its own weight.
Features :
1. Reliable structure and stable performance.

2. The wearing parts have long service life and low operating cost.

3. The dry oil sealing method is adopted to isolate the dust from the lubricating oil and prolong the service life of the equipment.

4. The thin oil station continuously supplies oil for lubrication, reducing downtime and maintenance time.
Company Introduction
CLIRIK is an excellent manufacturer of mining ore machinery, crushers, and pulverizers in China, and a leader in ore ultrafine grinding machinery. Always adhere to "quality-oriented, customer first". Over the years, based on our own technology and experience, we have continuously researched, developed, and improved ore crushers and ore mills. Strive to create cost-effective and high-quality machinery, improve customer experience, and bring customers higher benefits.

OUR SERVICE
Our online consulting team provides our clients with 365 days x 24 hours service, you can contact us anytime, anywhere.
Clirik will survey customers' sites and give reasonable project production line schemes according to the actual situation of the sites.
Products can be redesigned according to customer requirements to meet the maximum customer needs.
We provide customers with a full set of installation services such as site leveling, foundation drawing inspection, construction progress, team planning, installation guidance, and commissioning to ensure the smooth operation of the production line.
We provide comprehensive training for the technicians of each project. We can also continue to provide support to the technical staff during the later project operation period.
OFFER OTHER PRODUCTS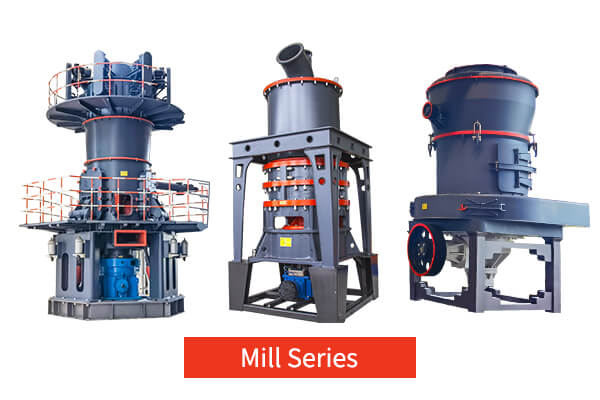 FAQ
Q: Are you a middle man or manufacturer?
A: Our Shanghai Clirik Machinery is a professional mining equipment manufacturer.
Q: How to get in touch with you?
A: You can leave your inquiry below this product, or you can call us +86 135 1213 7665
Q: Where is your company?
A: We are in PuDong new area, HeQing twon, FuQing road, No. 19, Shanghai, China.