Product Ovierviw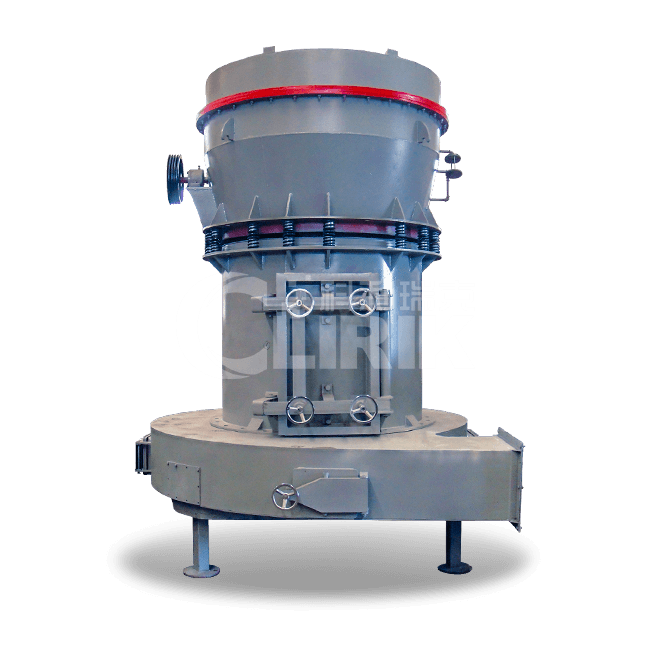 Raymond Mill
Model : YGM series
Brand : Clirik
Fineness Size : 50-325 mesh
Capacity : 1-25 t/h
Use Range :Calcium Carbonate、Dolomite、Gypsum、Carbon Black、Glass、.Gypsum、Kaolin、 Marble …
Application : Mining, Chemiscal, Transport and many other different areas.
Product Parameter
Model
Roller
Ring
Feeding
Size(mm)
Finished
Size(mm)
Mill System
Power(KW)
Capacity
(t/h)
Overall
Dimension (mm)
Quantity
(piece)
Diameter
(mm)
Height
(mm)
Inner
Diameter
(mm)
Height
(mm)
YGM7815
3
260
150
780
150
15
0.613-0.033
35.7
1.0-3.0
4300*3500*5100
YGM9517
4
310
170
950
170
25
0.613-0.033
72.65
2.1-5.6
7100*5900*7900
YGM1280
3
370
240
1170
240
20
0.613-0.033
145.15
4.5-12.0
9300*5600*8200
YGM1300
4
410
280
1270
280
20
0.613-0.033
202.15
6.5-16.0
9100*8200*8400
YGM1620
4
450
300
1500
300
20
0.613-0.033
322.2
8.0-20.0
12500*5700*10500
YGM1720
4
510
300
1720
300
35
0.613-0.033
450
10.5-28.0
11550*9500*1050
Product Advantage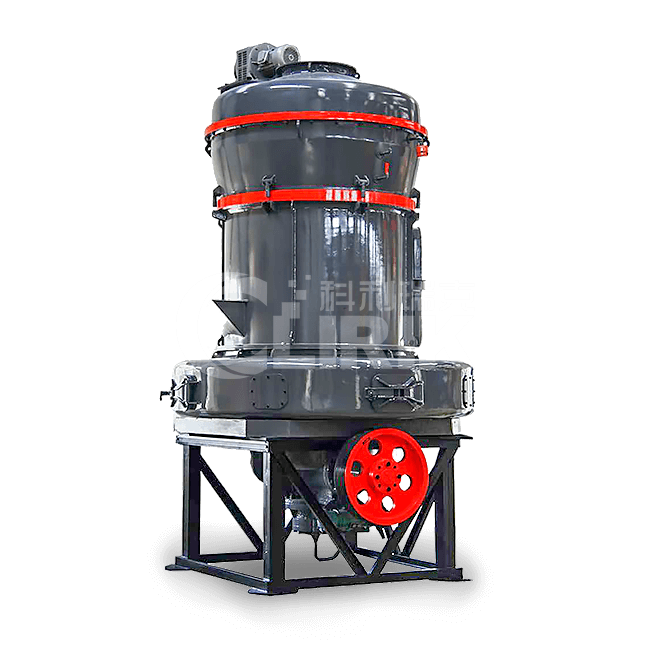 1.High pressure spring design.
2.Smoothly vibration reduce design.

3.Convenient vane adjust design.

4.Raymond mill has a strong material applicability ,which suits for many kinds of material whose Moh's hardness is less than 6.

5.Raymond mill device adopts superimposed seal,sealed performance is good.
Working Principle
The standard configuration of High Pressure Suspension Grinding Mill consists of main unit, reducer, powder classifier, cyclone powder collector, dust cleaner, blower, control cabinet motor and pipes.The optional accessories include crusher, bucket elevator, feeder.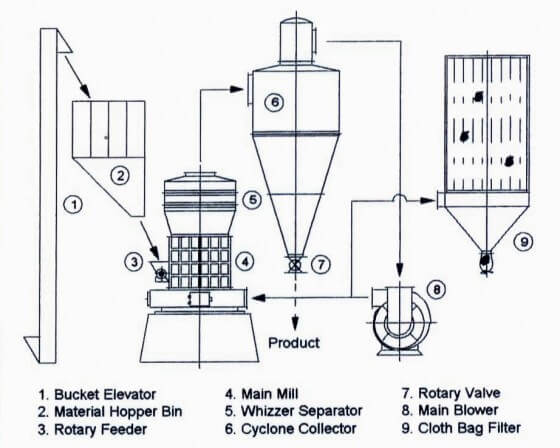 Big materials are crushed by jaw crusher to the required particle sizes, and carried by bucket elevator to the storage hopper, and are fed evenly and continuously by vibrating feeder into the main unit for grinding. The ground powder are carried by the airflow from the blower to the classifier to be classified, the particles which meet the fineness enter cyclone collector through pipe, and are separated and collected there. They are discharged at the discharging valve to become finished products; The airflow is sucked to the blower by return pipe on the top of cyclone collector. The whole airflow system is a sealed circulation, and is circulated under positive and negative air pressure.
Product Maintenance
A. YGM series Raymond mill in the process of use, there should be fixed personnel responsible for the care of the operator must have a certain level of technology. Before the mill is installed, the operator must be given necessary technical training, so that they can understand the principle and performance of the mill and be familiar with the operation procedures.
B. In order to make YGM series Raymond mill normal, equipment "equipment maintenance safe operation system" should be formulated to ensure the long-term safe operation of the mill, and necessary maintenance tools, grease and corresponding accessories should be available.
C. After the Raymond mill has been used for a period of time, maintenance should be carried out. At the same time, maintenance and replacement should be carried out for wearing parts such as grinding roller, grinding ring and shovel knife. Before and after the use of the grinding roller device, the connecting bolts and nuts should be carefully checked to see whether there is a loosening phenomenon and whether the lubricating grease is sufficient.
D. When the grinding roller is replaced after the service time of the grinding roller device exceeds about 500 hours, the rolling bearings in the roller sleeve must be cleaned, and the damaged parts should be replaced in time. Manual oil pump and butter gun can be used for the refueling tools.
(5) Bearings are lubricated with No. 1 MOS2 grease or ZN-2 sodium bitter grease
The roller bearing is refueled once per shift, the central bearing of the main engine is refueled once every 4 shifts, and the blower bearing is refueled once every month. Bearing room temperature rise shall not exceed 70℃. If the bearing is found to be overheated, the cleaning bearing and bearing chamber and other accessories should be removed and cleaned once.
Our Services
Buy our YGM series raymond mill can enjoy the following services :
1. Offers a variety of mining equipment for you to choose from.
2. Recommend suitable production lines and grinding equipment for you according to your site.
3. According your company image, customize the logo and color of the grinding equipment .
4. Provides third party inspection to ensure the quality of your grinding equipment.
5.Provides you with online installation and usage videos.
6.Provide you with technicians to install and debug the grinding equipment.
7. Trains your technicians in the use and maintenance of grinding equipment.
8.Provides you with a one-year warranty for grinding equipment.