Product Overview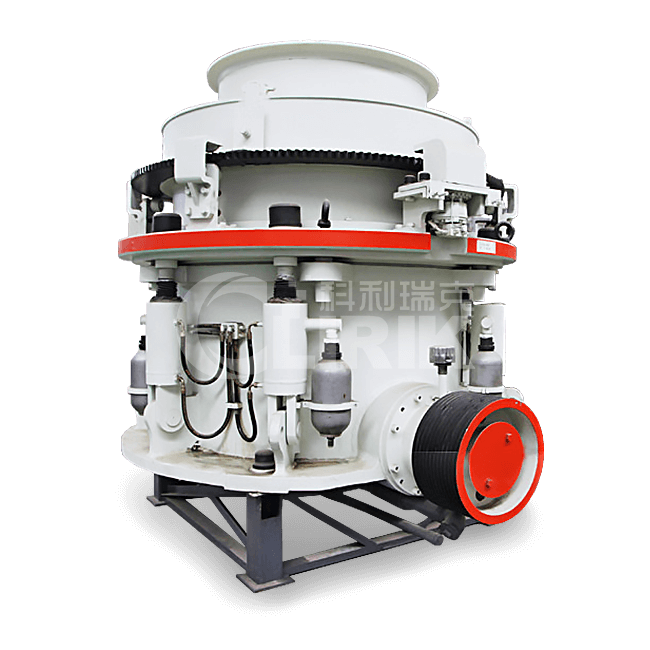 HCS Series Cone Crusher
Processing ability: 27-660t/h

Max feeding size: 275mm

Product Fineness: 10-100mm
Application: Quartz、Feldspar、Mica, Calcite、 Gypsum、Fluorite、Limestone, Soil、 Clay、 Marble、Granite、Pebble、 Coal、Slag、 Iron Ore、 Copper Ore、 Manganese Ore…

Product Parameter
Model

Movable Cone Diameter (mm)

Chamber Style

Max Feeding(mm)

Discharge Opening(mm)

Capacity(t/h)

Power(kw)

Machine Size(mm)

HCS100

790

EC

135

10-32

46-128

90

1550×1575×1965

C

90

10-25

43-118

M

65

8-16

36-76

MF

50

6-13

29-68

F

35

4-10

27-57

EF

28

6

30-40

HCS160

956

EC

180

13-38

69-215

160

1875×1920×2400

C

145

13-32

65-197

MC

115

10-25

60-180

M

90

10-22

60-160

MF

75

8-19

61-125

F

50

6-19

45-105

EF

35

6

70-90

HCS250

1150

EC

215

16-44

110-380

250

2100×2320×2780

C

175

13-38

100-385

MC

140

13-32

95-325

M

110

13-25

115-335

MF

85

10-22

90-280

F

70

8-19

90-235

EF

38

8

100-125

HCS315

1408

EC

275

16-44

177-660

315

2380×2735×3265

CX

245

16-38

170-650

C

215

16-38

170-640

MC

175

16-32

160-552

M

135

16-32

195-500

MF

115

13-32

190-450

F

85

13-25

195-400

EF

65

13-22

210-300
Product Application
HSC single cylinder hydraulic cone crusher is an optimized design of high performance single cylinder structure hydraulic cone crusher, mainly used in mining, building materials, metallurgy and other industries, can be granite, limestone, river pebbles, basalt, iron ore and other ores, rocks for medium and fine crushing operations.
Applied Materials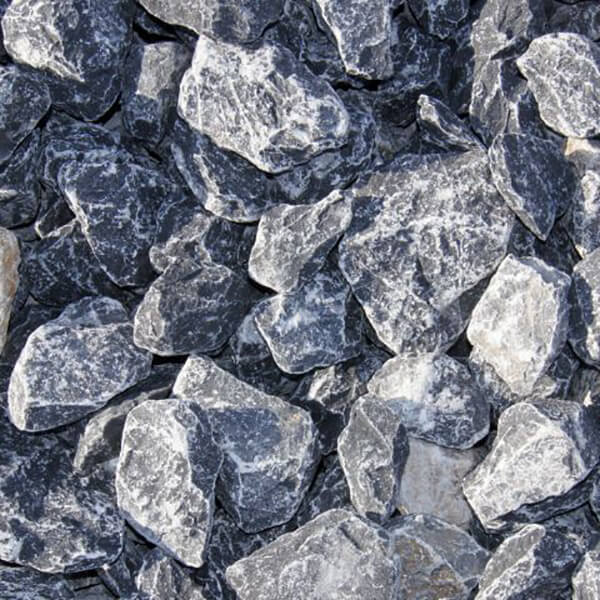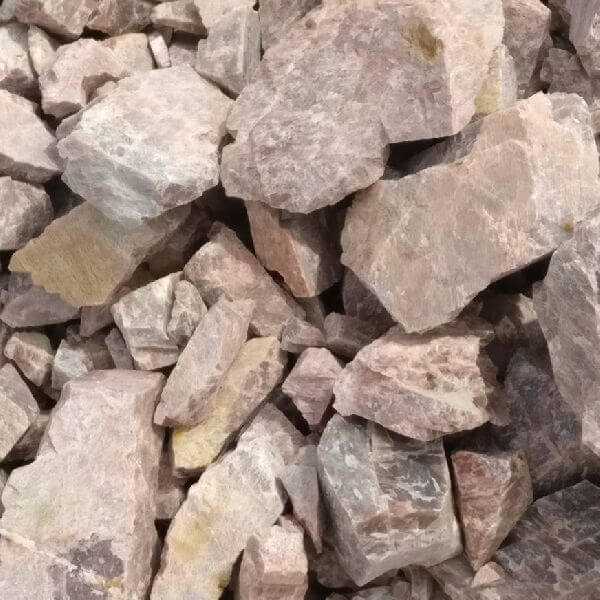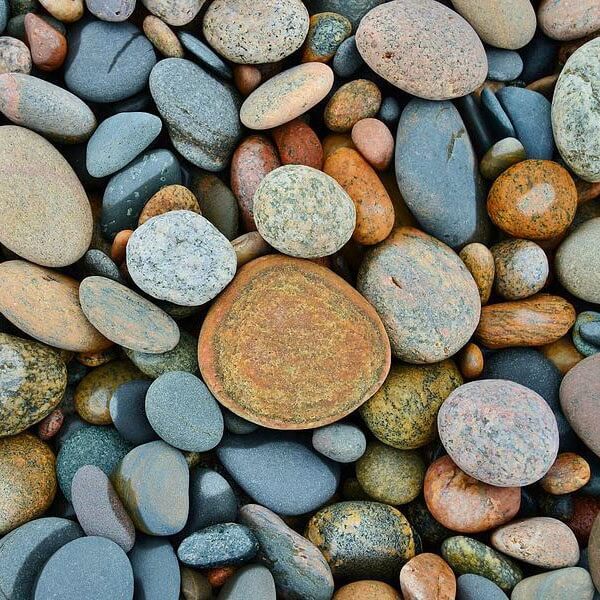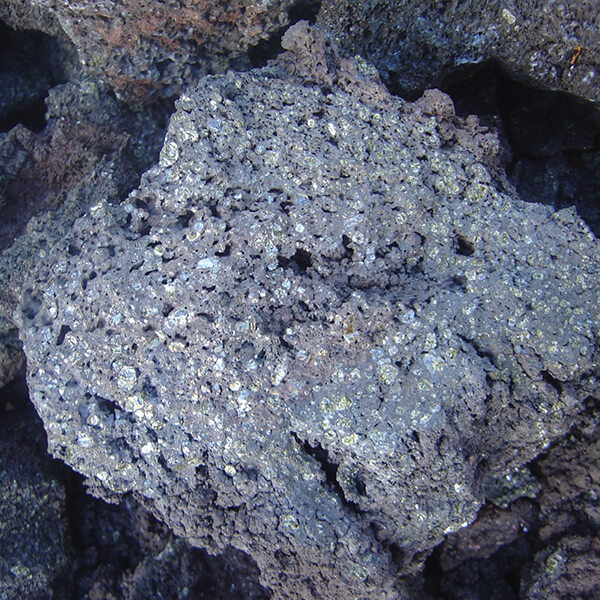 Working Principle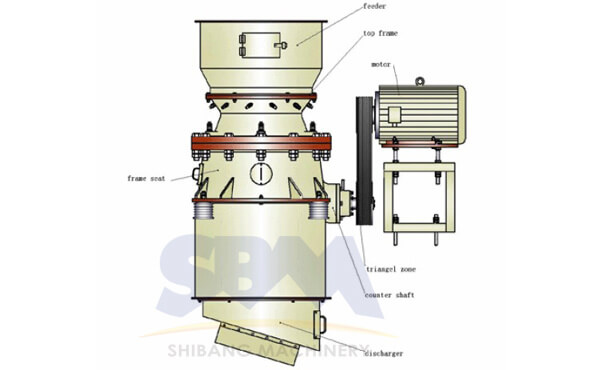 When HSC single cylinder hydraulic cone crusher working, motor drives the horizontal drive shaft to rotate through the V-belt, and the horizontal drive shaft drives the eccentric sleeve to rotate through the bevel gear. After the material enters the crushing cavity, it is continuously impacted, squeezed and broken between the crushing wall and the rolling mortar wall. The crushed material is discharged from the lower part.
Performance Characteristics
Reasonable eccentricity and swing frequency and special crushing cavity design make the equipment larger in crushing ratio, higher in output and better in grain shape.
It integrates the functions of discharge port adjustment and overload protection, with simplified structure and convenient use.
The intelligent control system can monitor the running status of the equipment in real time, so as to adjust it in time, so that the equipment can always maintain the ideal running state.
Strengthened equipment structure and advanced overload protection system ensure long-term safe operation of equipment.
Company Profile
SHANGHAI CLIRIK MACHINERY CO., LTD located in PUDONG New district of Shanghai china as a professional enterprise, which is specializing in research, manufacture and sales of all kinds of mining equipment. Our company has already formed a full set of modern production line, equipped with intelligent,standardized testing and controlling laboratories, owned a professional team for R&D, production, sales and service.

Our Service

1.Clirik will recommend suitable production lines and grinding equipment to you according to your site.

2.Clirik provides third party inspection to ensure the quality of your grinding equipment.

3. Clirik provides you with online installation and use videos.

4. Clirik will provide you with technicians to install and debug the grinding equipment.

5. Clirik trains you the technicians who use and maintain the grinding equipment.

6. Clirik provides you with a one-year warranty and lifetime service for the grinding equipment.
Our Other Equipment
FAQ
Because of different kinds of cone crusher , so our cone crusher has different prices, I need to ask you some details for sending you the more suitable quotation:

1. Which kind of material you are going to grinding?
(Dolomite; Calcite; Quartz; Basalt; Barite; Feldspar ; Gravel; Bentonite; Gypsum; Granite; Coal; Slag; Pebble; Others )

2. What's the production capacity you want? How many tons or cubic meters per hour?
( > 100 TPH > 50 TPH > 30 TPH > 10 TPH > 1 TPH < 1 TPH)

3. What's the granularity of the final products you need?
(in milimeter, micron or mesh)

4. What's the max input size of the material?
(In inch,centimeter or milimeter)

We will give you factory price with full specification,so pls leave us an inquiry to know more details about price, packaging shipping and discount.