YGM Series High Pressure Suspension Grinding Mill
YGM Series High Pressure Suspension Grinding Mill
Product Overview Of YGM Series High Pressure Suspension Grinding Mill
YGM Series High Pressure Suspension Grinding Mill are mainly applied to the powder processing of mineral products in the industries of metallurgy, construction materials, chemical, and mining, etc.
YGM Series High Pressure Suspension Grinding Mill can produce powder from various non-flammable and non-explosive mineral materials with Mohs hardness below 9.3 and humidity below 6%, such as quartz, feldspar, calcite, talcum, barite, fluoride, Xircom, cinder, white lime, cement clinker, activated carbon, dolomite, granite, soft coal, coking coal, lignite, magnesia, chromium oxide green, gold ore, red clay, clay, kaolin, coke, coal Gangue, porcelain clay, kyanite, fluorspar, bentonite, medicinal stone liparite, diabase, pyrophyllite, shale red stone, emeraldite, basalt, gypsum, graphite, carborundun, heat insulating material, etc.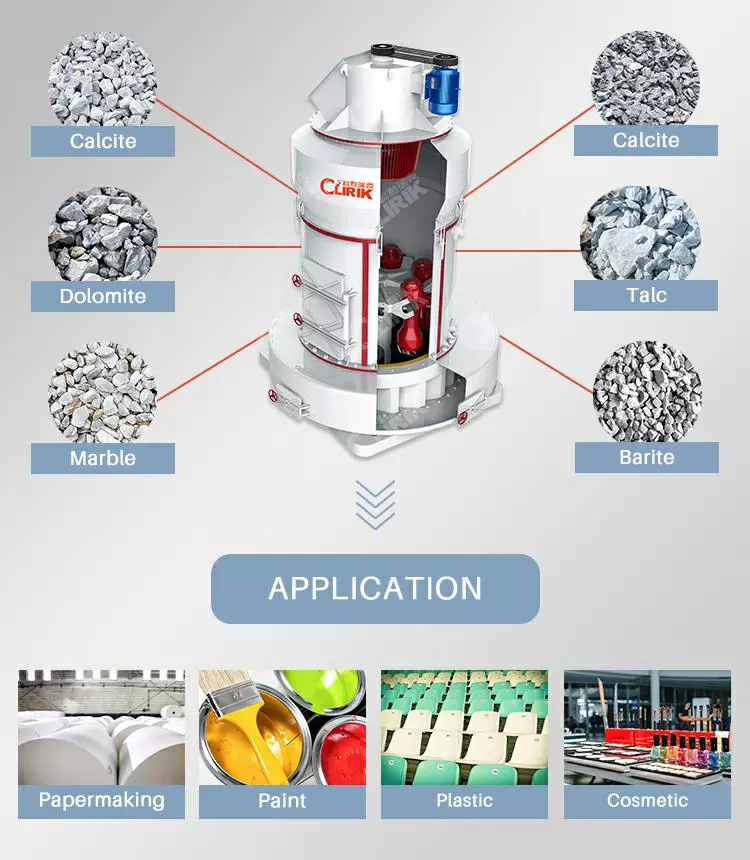 Product Features Of YGM Series High Pressure Suspension Grinding Mill
1.Bevel gear integral transmission.
The traditional grinding mill needs a decelerator and ratcheting to drive the main shaft that increases the centering difficulty and is easy to bring noise as well as reduce the efficiency. YGM Series High Pressure Suspension Grinding Mill adopt bevel gear integral transmission that compact the whole structure and simplifies the installation as well as improves the efficiency.
2.Inner light-oil lubrication system.
The traditional grinder machine lubrication adopts grease lubrication which increases the resistance of lubrication, creates high inherent temperature and shortens the service life of bearing.YGM Series High Pressure Suspension Grinding Machine adopts light-oil lubrication to achieve the lubrication of bearing without oil pump and lubrication station.
3.Arc whirl tube.
The traditional mills adopt board-type whirl tube that increases the resistance, reduces the performance, and stops the air flow and so on.YGM Series grinder machine adopt arc whirl tube reduce the resistance and avoid the air-stop and so on.
4.Wear resistant alloy material.
The edge of YGM Series Powder Grinding Mill adopts wearable alloy materials which improve the service life. The Changeable edge is easy to change that saves time and cost. The traditional flat shovel makes the materials accumulate at one level that reduces the ring and roller service life. The curved surface shovel makes a vertical material liner which increases the working face and capacity.
5.Insolating type cyclone collector.
Adopt insolating structure between the inner core and mixed air flow that improve the classifying efficiency and precision.
6.Non-resistance inlet shell.
Traditional observation door of shell protrude that makes the inner surface is not so smooth, which brings eddy effect and increases the consumption. YGM Series Raymond Grinding Mill adopts the same curved surface which avoids the eddy effect.
7.Fine appearance.
YGM Series High Pressure Suspension Grinding Mill not only adopts many advanced structures but also optimizes the appearance.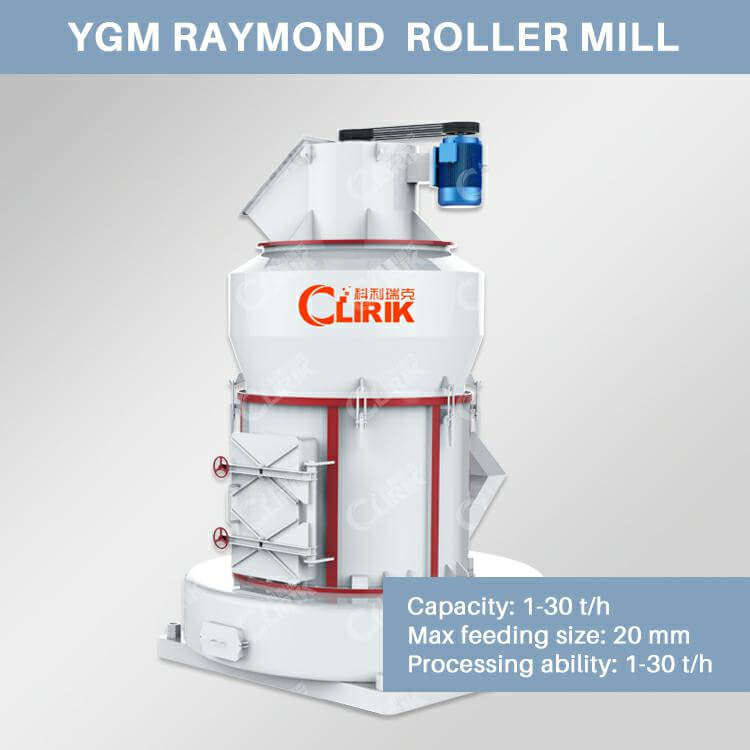 Working Principle Of YGM Series High Pressure Suspension Grinding Mill
YGM Series High Pressure Suspension Grinding Mill complete set of equipment comprises: host, analysis machine, blower, cyclone separator, pipeline device, motor and other components, auxiliary equipment has Raymon mill, dustbowl hoist, electromagnetic vibration feeder, electric control cabinet, users can select flexibly according to the site situation.
YGM Series Raymond mill has smashed the large block of raw material to the desired feed size, Conveying material to storage bin by Bucket Elevator, then the electromagnetic vibrating feeder evenly to host grinding cavity, into the grinding chamber of material between grinding roller and grinding ring grinding.
After grinding the powder fineness to meet the requirements through the airflow, into the big cyclone collector sorting collection pipeline. The finished product is then discharged through the discharge device.
The shovel system plays a crucial role in the working process of the host machine. It is located at the lower end of the grinding roller, the shovel knife and the grinding roller in the process of the same rotation of the material into the grinding roller between the roller ring, forming a cushion layer, the material layer by the grinding roller rotation of extrusion pressure will be crushed, so as to achieve the purpose of powder.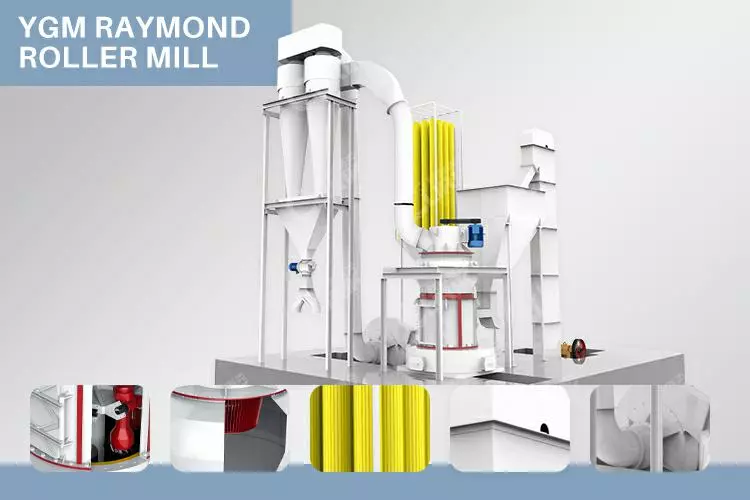 Product Parameter Of YGM Series High Pressure Suspension Grinding Mill
Model
Roller
Ring
Feeding
Size(mm)
Finished
Size(mm)
Mill System
Power(KW)
Capacity
(t/h)
Overall
Dimension (mm)
Quantity
(piece)
Diameter
(mm)
Height
(mm)
Inner
Diameter
(mm)
Height
(mm)
YGM7815
3
260
150
780
150
15
0.613-0.033
35.7
1.0-3.0
4300*3500*5100
YGM9517
4
310
170
950
170
25
0.613-0.033
72.65
2.1-5.6
7100*5900*7900
YGM1280
3
370
240
1170
240
20
0.613-0.033
145.15
4.5-12.0
9300*5600*8200
YGM1300
4
410
280
1270
280
20
0.613-0.033
202.15
6.5-16.0
9100*8200*8400
YGM1620
4
450
300
1500
300
20
0.613-0.033
322.2
8.0-20.0
12500*5700*10500
YGM1720
4
510
300
1720
300
35
0.613-0.033
450
10.5-28.0
11550*9500*1050
Product Advantages Of YGM Series High Pressure Suspension Grinding Mill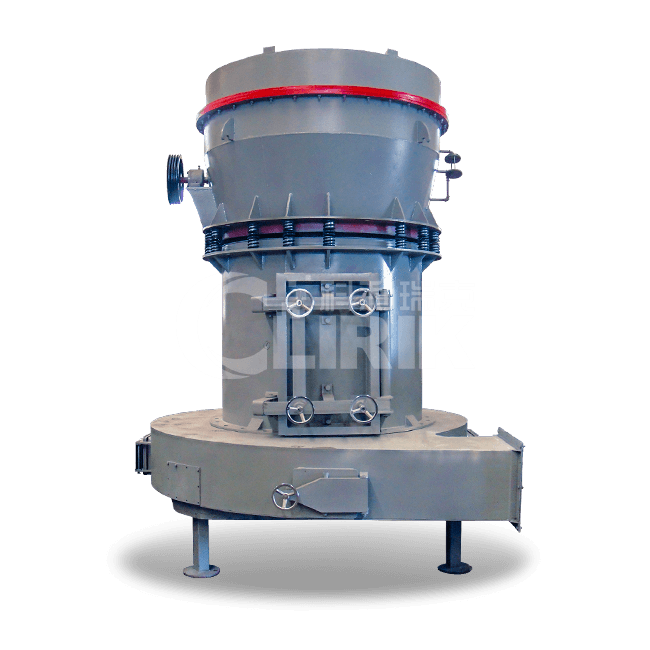 1.High Efficiency

Under the same finished final size and the same motor power, the capacity of the machine is twice as much as jet mill, mixing grinder and ball mill, and energy consumption decreased 30%.
2.Long lifecycle of spare parts

The ring and roller are forged by special material with high utilization, the lifetime can reach 2-5 years for grinding calcite.
3.High safety and reliability
​As there are no rolling bearings or screws in grinding cavity, there are no problems caused by bolts shedding or rapid wear of bearings and seal components.
4.High fineness, flexible adjustment

The final fineness of the grinding materials can be adjusted between 325 meshes and 2500 mesh (47-5 micron), and the product fineness can reach D97≤ 5μ M.
5.Environment-friendly

The application of pulse bag filter and muffler greatly alleviates dust pollution and noise.
Manufacturer Introduction Of YGM Series High Pressure Suspension Grinding Mill
YGM Series High Pressure Suspension Grinding Mill manufacturer Shanghai Clirik Machinery Co., Ltd is located in Pudong New Area, Shanghai, China. It is a professional enterprise specializing in research and development, production and sales of all kinds of mining equipment. The company has formed a full set of modern production lines, equipped with intelligent, standardized testing and control laboratory, with research and development, production, sales, service in one of the professional team.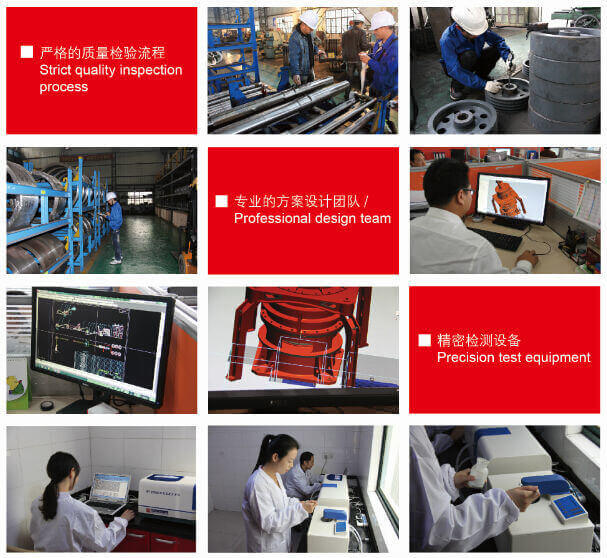 A.Pre-sale:
1.Equipment sizing assistance based on customer's demand.
2.Assistance in planning the layout of workshop according to customer's site conditions.
3.Assistance in designing and installation of the foundation drawing and process flow diagram based on customer's demand.
4.Guidance on preparation work.
B. During sale:
1.Strict control of production to ensure product quality.
2.Elimination of hidden dangers with strict factory inspection and traceability system.
3.Providing logistics information.
4.Guidance on the preparation of equipment foundation.
5.Guidance for installation and commissioning.
6.Offering professional technical training.
C. After-sale:
1.Guidance on various powder production processes for customers.

2.Periodic follow-up on device usage.

3.Instructions on equipment maintenance.

4.Solution of relevant problems in the shortest time.

5.Timely and efficient replacement of spare parts.

6.Professional and fast equipment maintenance.
FAQ
1. Are you a factory or a trade company?
We are a factory with CE&ISO.
2. Where have your products been exported before?
Our products have been sold to South Asia, Africa, Europe, South America, the Middle East and so on.
3. How will you help the customer to install the equipment?
Our senior engineer will supply installation and training service online or on-site.
4. How about the wear parts supply?
We will supply the wear parts with factory price.
5.What about after-sale service?
12 months warranty for all kinds of products.
6.How to get the free solution and quotation?
Please send an inquiry to us, leave your whatsapp and email. Our sales manager will contact you within 1 hour.