Barite Powder Raymond Mill
Barite Powder Raymond Mill
Producte Overview Of Barite Powder Raymond Mill
Barite powder Raymond mill also called barite powder Raymond roll mill,Widely used in metallurgy, building materials, chemical industry, mining and other fields of mineral materials grinding processing, suitable for processing mohs hardness below 6, humidity below 6% of all kinds of non-flammable and explosive minerals, Such as gypsum, talc, calcite, limestone, marble, potassium feldspar, barite, dolomite, granite, kaolin, bentonite, medical stone, bauxite, iron oxide red, iron ore, etc.,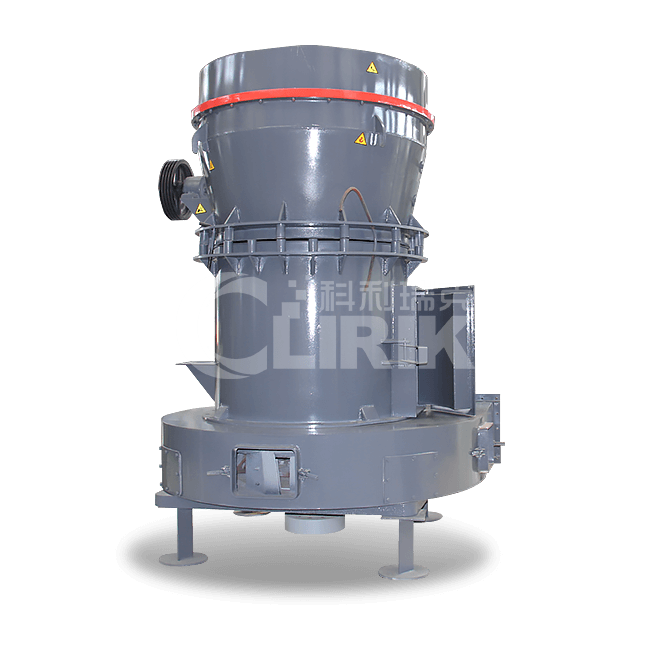 Barite Powder Raymond Mill
Model : YGM series
Brand : Clirik
Fineness Size : 50-325 mesh
Capacity : 1-25 t/h
Use Range :Calcium Carbonate、Dolomite、Gypsum、Carbon Black、Glass、.Gypsum、Kaolin、 Marble …
Application : Mining, Chemiscal, Transport and many other different areas.

Product Parameter Of Barite Powder Raymond Mill
Model
Roller
Ring
Feeding
Size(mm)
Finished
Size(mm)
Mill System
Power(KW)
Capacity
(t/h)
Overall
Dimension (mm)
Quantity
(piece)
Diameter
(mm)
Height
(mm)
Inner
Diameter
(mm)
Height
(mm)
YGM7815
3
260
150
780
150
15
0.613-0.033
35.7
1.0-3.0
4300*3500*5100
YGM9517
4
310
170
950
170
25
0.613-0.033
72.65
2.1-5.6
7100*5900*7900
YGM1280
3
370
240
1170
240
20
0.613-0.033
145.15
4.5-12.0
9300*5600*8200
YGM1300
4
410
280
1270
280
20
0.613-0.033
202.15
6.5-16.0
9100*8200*8400
YGM1620
4
450
300
1500
300
20
0.613-0.033
322.2
8.0-20.0
12500*5700*10500
YGM1720
4
510
300
1720
300
35
0.613-0.033
450
10.5-28.0
11550*9500*1050
Working Principle Of Barite Powder Raymond Mill
Barite powder raymon mill complete set of equipment comprises: host, analysis machine, blower, cyclone separator, pipeline device, motor and other components, auxiliary equipment has Raymon mill, dustbowl hoist, electromagnetic vibration feeder, electric control cabinet, users can select flexibly according to the site situation.
Barite powder Raymond mill has smashed the large block of raw material to the desired feed size, Conveying material to storage bin by Bucket Elevator, then the electromagnetic vibrating feeder evenly to host grinding cavity, into the grinding chamber of material between grinding roller and grinding ring grinding.
After grinding the powder fineness to meet the requirements through the airflow, into the big cyclone collector sorting collection pipeline. The finished product is then discharged through the discharge device.
The shovel system plays a crucial role in the working process of the host machine. It is located at the lower end of the grinding roller, the shovel knife and the grinding roller in the process of the same rotation of the material into the grinding roller between the roller ring, forming a cushion layer, the material layer by the grinding roller rotation of extrusion pressure will be crushed, so as to achieve the purpose of powder.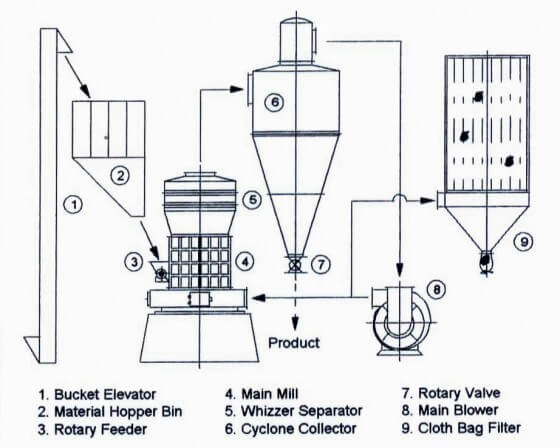 Product Advantages Of Barite Powder Raymon Mill
---
1.The equipment is mature and stable.
Nearly 30 years of experience in grinding and designing different materials, mature transformation of 4 generations of mills.
2.High efficiency, large output.
Breaking through the bottleneck of traditional pendulum mill production capacity, enjoy the advantages of large single production capacity at home and abroad, single processing capacity up to 50T/H, under the same power, the output is 20% higher than the traditional R Raymond mill, 30% higher than the ball mill.
Roller linkage supercharging technology, smooth operation, large grinding pressure, significantly improved output.
Bevel gear integrated transmission, accurate transmission ratio, less transmission chain, small energy loss, significantly improved efficiency.
A variety of selection frequency conversion type powder separator and new isolation type cyclone powder collector, so that the particle size and precision of finished products can be adjusted and controllable, powder selection and powder collection efficiency greatly improved.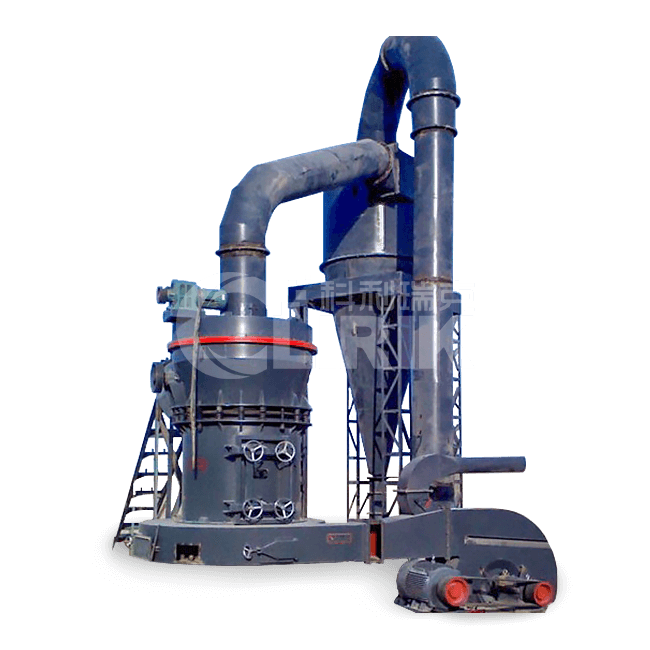 3.Reliable technology and low operating cost.
New technology, China's national patent products, with technical innovation to create a three-dimensional structure, small footprint, strong system, from raw material rough processing, transportation, milling, to the final packaging, can become an independent production system barite powder Raymond mill.
​
Special grinding roller and grinding ring structure design, improve grinding efficiency, use cost reduction. The volute adopts the layout of no resistance and the same resistance, which greatly reduces the power and energy loss caused by the system energy consumption.
4.Multi-purpose, investment economy.
Without replacing any parts, one device is used for different materials and different finished particle size requirements.
Under the same output, the investment amount is only half of the ball mill, and the floor area is only one third of 4R Raymond mill. The infrastructure construction cost of the factory is low, the investment is economical, the capital recovery is quick, and the profit is quick.
5.Provide overall solutions.
Proprietary empirical equipment, before the project to provide users with the possibility of testing machine research, to provide users with crushing, drying, grinding, screening, packaging design, supply, construction, service and other aspects of the solution.
6.Energy conservation and environmental protection.
Small dust discharge, special dust collector configuration, dust removal effect of 99.99% or more, basically realize workshop dust-free operation.
Low operating noise, machine vibration is small, the noise is 20-30 decibels lower than the ball mill.
Manufacturer Introduction Of Barite Powder Raymond Mill
Barite powder Raymond mill manufacturer Shanghai Clirik Machinery Co., Ltd is located in Pudong New Area, Shanghai, China. It is a professional enterprise specializing in research and development, production and sales of all kinds of mining equipment. The company has formed a full set of modern production lines, equipped with intelligent, standardized testing and control laboratory, with research and development, production, sales, service in one of the professional team.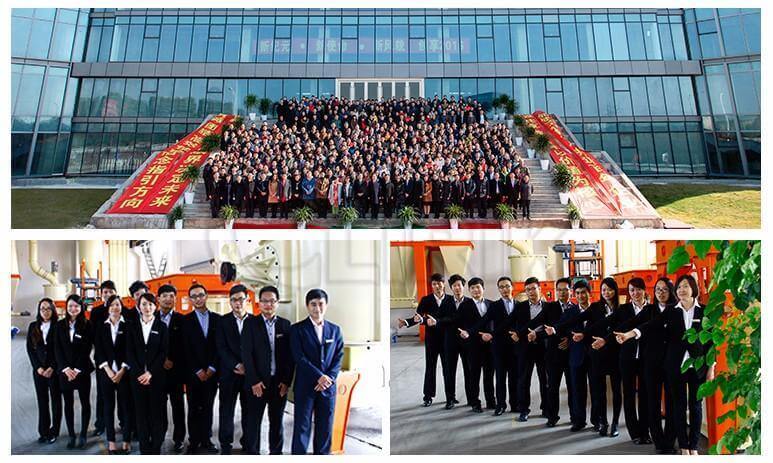 Our Service
One year guarantee for the whole machine except for wear parts.
24 hours technical support by email.
Reminding for the service life of the wearing parts.
Installation guide for clients from both China and abroad.
Maintenance and replacement service.
Whole process training and guidance from our technicians.