Barite Powder Ultrafine Grinding Mill
Barite Powder Ultrafine Grinding Mill
Producte Overview Of Barite Powder Ultrafine Grinding Mill
Barite powder ultrafine grinding mill is also called barite powder ultrafine Raymond grinding machine, ore grinding machine, three-ring medium speed grinding and so on, 3000 mesh barite powder ultrafine grinding mill complete set of stone grinding powder production line, is a commonly used in mining, construction, chemical industry, mine and other industries grinding equipment, The equipment can grind non-flammable and non-explosive materials with mohs hardness not greater than 6, and has the advantages of mature structure, simple operation and strong processing capacity.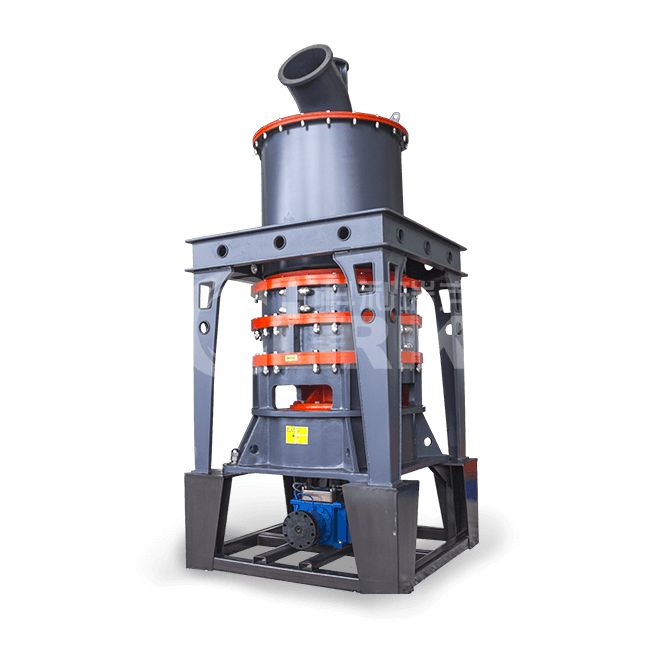 Barite Powder Ultrafine Grinding Mill
Model: HGM series
Brand: Clirik

Powder Fineness Process Ability: 325-3000 mesh

Capacity: 0.5-45 t/h

Use Range: Gypsum, Calcite, Calcium Carbonate, Dolomite,Carbon Black, Kaolin, Marble …

Application: Mining, Chemiscal, Transport And Many Other Different Areas
Product Parameter Of Barite Powder Ultrafine Grinding Mill
| | | | | | | | |
| --- | --- | --- | --- | --- | --- | --- | --- |
| Model | HGM80 | HGM80A | HGM90L | HGM100L-Ⅱ | HGM100P | HGM125L | HGM1680L |
| Ring Diameter(mm) | 800 | 800 | 900 | 1000 | 1000 | 1250 | 1680 |
| Ring Number (PCS) | 3 | 3 | 4 | 4 | 4 | 4 | 4 |
| Input Size (mm) | ≤10 | ≤10 | ≤10 | ≤15 | ≤15 | ≤20 | ≤20 |
| Adjustable range of finished product (mesh) | 150-3000 | 150-3000 | 150-3000 | 150-3000 | 150-3000 | 150-3000 | 150-3000 |
| Capacity (t/h) | 0.5-5.5 | 0.5-5.5 | 0.8-6.5 | 1.2-10 | 1.2-11 | 2.5-20 | 5-45 |
| Outlet Size L*W*H (mm) | 8605*4139*6050 | 10454*3393*6626 | 11735*3952*7525 | 14507*3633*7562 | 14362*4200*7562 | 19261*4406*8591 | 25067*5414*9007 |
| Main motor power (kw) | 75 | 75 | 55*2 | 132/75*2 | 132/75*2 | 185 | 315 |
Working Principle Of Barite Powder Ultrafine Grinding Mill
Barite powder ultrafine grinding mill host motor through the host pulley power input to the main shaft and then drives each layer of the turntable rotation. The pin drives three – or four-ply ring rollers to roll and rotate in the ring raceway by means of a turntable.

Large pieces of material are broken into small particles by a hammer crusher, which are then fed into the storage bin by a hoist. Skirt belt feeder will feed the material through the feeding port evenly to the middle of the upper rotary table.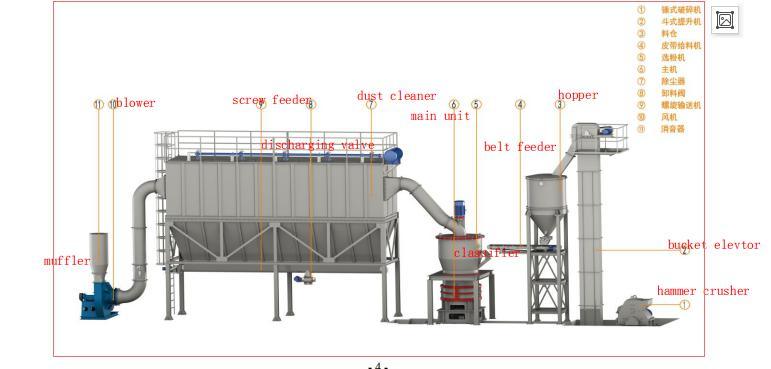 Under the action of centrifugal force, the material diffuses to the periphery of the circle, falls into the raceway of the grinding ring, and is stamped, rolled, ground and crushed by the grinding ring roller. The material is crushed by the first layer and then split into the second layer and the third layer for further crushing.
The high-pressure centrifugal fan inhales the external air into the classifier, and enters the separator through three layers of powdery materials. The rotating turbine in the powder separator makes the coarse particles that do not meet the requirements go back and regroup. The fine powder enters the cyclone powder collector with the airflow and is discharged through the discharge valve at the bottom, which is the finished product. The airflow containing a small amount of fine dust is purified by the pulse powder collector and discharged through the fan and muffler.
Product Advantages Of Barite Powder Ultrafine Grinding Mill
1.Barite Powder Ultrafine Grinding Mill Adjustable particle size: 325-3000mesh.

2. Energy Saving: compared with the common stone powder grinding machine, the barite powder ultrafine grinding mill can decrease about 20%~30% electronic consumption​

3. Long Service Life: because the grinding ring and roller are forged by special material with high utilization. Under the same grinding material and finish special size, the lifecycle of spare parts is about one year, which is 2-3 times longer than impact mill or turbo mill

4. High safety and reliability: The design of the mill is rigorous, so no screw loosening to damage the machine.

5. Environment Friendly: the application of pulse bag filter and muffler greatly alleviates dust pollution and noise, so it is the green and ideal equipment for environmental protection.
Manufacturer Introduction Of Barite Powder Ultrafine Grinding Mill
Our Company
Barite powder ultrafine grinding mill manufacturer Shanghai Clirik Machinery Co., Ltd is located in Pudong New Area, Shanghai, China. It is a professional enterprise specializing in research and development, production and sales of all kinds of mining equipment. The company has formed a full set of modern production lines, equipped with intelligent, standardized testing and control laboratory, with research and development, production, sales, service in one of the professional team.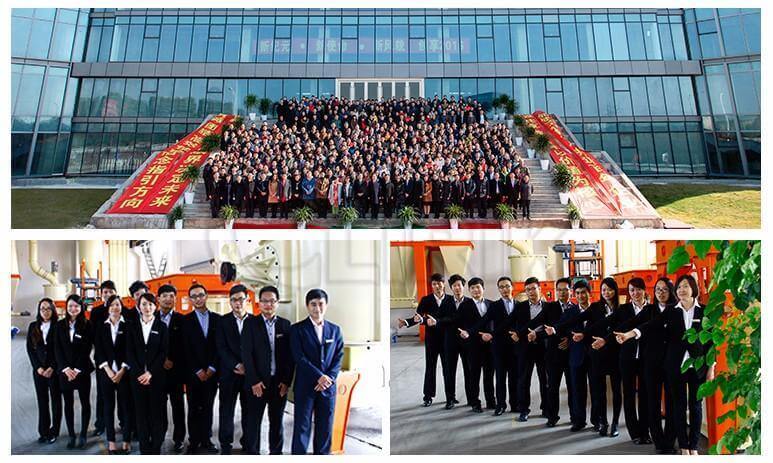 Our Services
One year guarantee for the whole machine except for wear parts.
24 hours technical support by email.
Calling service.
User manual available.
Reminding for the service life of the wearing parts.
Installation guide for clients from both China and abroad.
Maintenance and replacement service.
Whole process training and guidance from our technicians.
The high quality of after-sales service symbolizes our brand and ability. We pursue not only good quality products, but also best after sales service. Your satisfaction is our final purpose.