Application of Ultrafine Grinding Mill in Production of Barite

Barite is rich in resource reserves in the world. At present, the use of high-yield and high-efficiency barite ultrafine mills can improve the efficiency of barite powder production and increase the market value of barite. In particular, the introduction of high-quality and efficient milling technology and technical equipment can effectively increase the added value of barite products and improve the quality of barite powder. The price of CLIRIK barite superfine mill is scientific and reasonable, and the quality is excellent. The preferred equipment for the use value of barite.

China's barite resources rank first in the world with a concentrated distribution. Among them, 82% of the identified resource reserves are distributed in the five provinces of Guizhou (34%), Hunan (21%), Guangxi (14%), Gansu (7%), and Shaanxi (6%). The type of barite deposit in my country is relatively simple and can be divided into three types: sedimentary type, hydrothermal type and residual slope type. Sedimentary type is the most important type of deposit, with accumulated proven resource reserves accounting for 67.6%; hydrothermal barite deposits with accumulated identified resource accounting for 31.0%, mainly small and medium-sized deposits; residual slope accumulation type The accumulatively identified reserves of spar deposits account for only 1.4%. For barite mineral resources, the value of high-yield and efficient barite superfine mills is increased, the efficiency of milling is high, and the energy consumption is low. It is widely used in recrystallization In the field of stone processing, it is a preparation tool for promoting barite to achieve a broader market prospect.
CLIRIK barite superfine mill has the advantages of high efficiency and low consumption of powder produced by high-speed impact crusher, but also has the product fineness close to that of jet mill. Produced under negative pressure, equipped with a high-efficiency dust collector, less dust in the working environment; using semi-automatic control and a unique process to greatly improve production efficiency, product quality is stable, is the current ideal equipment for dry production of non-metallic ore fine powder . The grinding wheel and grinding ring are made of special wear-resistant steel, which has low abrasion and high service life, reduces the frequency of downtime maintenance and replacement, and facilitates maintenance. This equipment is used in the field of ultra-fine crushing and processing. It is not only highly efficient and energy-saving, but also environmentally friendly and reduces consumption. The investment cost of the entire equipment is low, and the economy is also lime. It is the preferred equipment to increase investment efficiency and enhance market competitiveness.

New Barite Superfine Mill-HGM Superfine Ring Roller Mill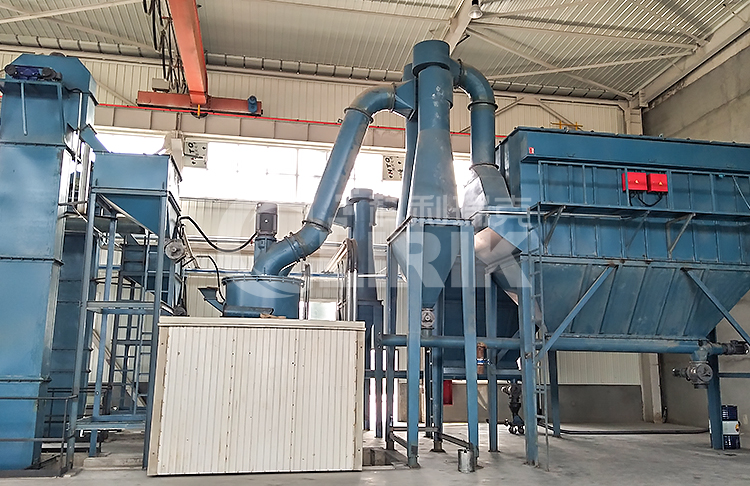 Mill weight:
17.5-70t
Maximum size of feed:
≤20mm
Finished product output:
1-22t/h
Product fineness:
0.04-0.005mm
Scope of application:
This mill can be widely used in deep processing fields such as metallurgy, chemical rubber, coatings, plastics, pigments, inks, building materials, medicine, food, etc. The grinding effect is remarkable, and it is an ideal equipment for deep processing of non-metallic ores.
Application materials:
Ultra-fine grinding can be applied to non-metallic minerals such as calcium carbonate, barite, calcite, gypsum, dolomite, potash feldspar, etc. The product fineness is easy to adjust and the operation is simple.
Grinding characteristics:
This mill has wide applications, simple operation, convenient maintenance, stable performance, high efficiency and environmental protection, and high cost performance. It is the first choice for ultrafine crushing and processing in the field of flour milling.
The price of the grinding mill is an important purchase factor that affects the hearts of many investors. For the price of the superfine mill of barite, the detailed processing information provided by the customer will be an important basis for formulating a scientific and reasonable model selection plan and equipment price. Welcome Customers call to provide processing details.
Shanghai Clirik Machinery Co., Ltd.
will continue to adjust the product structure and development strategy direction based on the market information of the barite origin, and push out higher-end, more stable grinding equipment for the industry.