What Equipment Is Needed When We Produce Barite Powder
When we mention the common equipment to produce barite powder, we will think of barite grinding mill immediately. Barite in packing industry and the cement industry has been increasingly widespread, especially in the packing industry, the application of barite powder irreplaceable. Barite barium sulfate is a main component of nonmetallic mineral products, applications involving chemicals, paper, textiles and glass filler.
Before we use the barite grinding mill, we should break the raw material at first. Barite ore brittle fragile, so the crushing process, select the most appropriate kind of grinder barite it, we recommend the use of jaw crusher, impact crusher or avoid the use of hammer crusher. After jaw crusher crushing effect it can get better. After the screening process, crushed barite ore thickness is very uneven, but generally has its own processing equipment required for selected size and selected grain size range, so crushed barite ore through vibrating sieve screening process can be optimized next sorting process.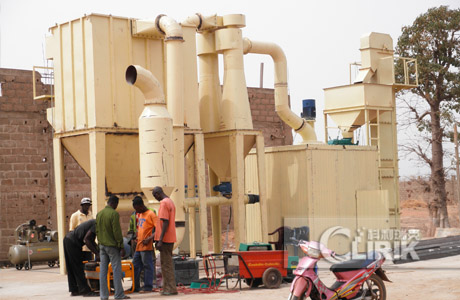 After barite mill crushing, the material lifting by hoist to a certain height, via feeder evenly into the barite grinding mill, After grinding by the barite grinding mill, to achieve the finished size of the fine powder collector carried by the packaging materials. Now barite processing companies around the many, various manufacturers because barite grinding mill uses different mechanical, production and supply of barite powder is also not the same. Also in the relevant application, barite powder quality requirements are not the same.
The choice of barite powder processing equipment also needs to choose according to their needs. As a professional barite grinding mill manufacturer, Shanghai Clirik Machinery has production of several models of barite powder equipment, such as Raymond mill, high pressure grinding mill, powder grinding mill, and so on. They are the main barite powder processing equipment. If you want to know more details about our barite grinding equipment, or you want to know the price of the grinding mill. Please leave your inquiry on our website.