Technology Upgrade of YGM Barite Grinder
YGM Barite Grinder, which is also called Barite Raymond mill, is the traditional type of processing barite mill. Development of domestic and foreign technology stimulates the rise of Chinese industry, the mining industry is also in constant innovation. YGM Barite Grinder is quietly changing. This is good for customers, as well as for the development of our country.

Barite is raw materials of barium extraction, and its fine powder can be used for mud weighting agent. Its fragments can replace the stones as materials of radiation gravity wall; and it also can be used as all kinds of white pigments, paints and as fillers in rubber industry, paper industry and chemicals industry. By developing the technology of Shanghai Clirik, we upgrade our technology in the basis of the original to make good Perfect!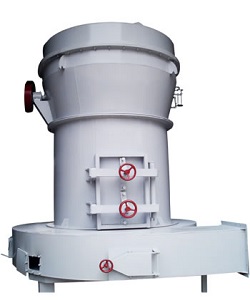 Below the YGM Barite Grinder, there are internal grinding motor driving rotating disc. It need to grind materials and blow the finished material by the inward wind. There is a separator Inside the upper part of YGM Barite Grinder, it can separable coarse powder and fine powder. Then the powder is taken out to be collected by the wind of air outlet. YGM Barite Grinder is better than barite ball mill of high efficiency, low power consumption, small footprint, less time investment. It's exactly in line with the energy-saving way to go of national policy advocacy.

No matter any form of change, including YGM Barite Grinder's, they are inseparable from today's latest social topics: environmental protection, high efficient, energy saving, convenient. For us, only development of YGM barite grinder follows development of social, and meets the people's requirements, it can move towards prosperity. We are looking forward to the YGM barite grinder to across the progress of The Times.