The Material and Working Principle of Barite Grinding Machine
Barite grinding machine is suitable for non-inflammable superfine powder processing of medium and low hardness, and moh's hardness of the material is less than or equal to 6 level .
Such as calcite, chalk, limestone, white clouds stone, carbon black, kaolin, bentonite, talc, mica, magnesite, illite, pyrophyllite, vermiculite, sepiolite, attapulgite, rectories, diatomaceous earth, barite, gypsum, alunite, graphite, fluorite, phosphate rock, potassium ore pumice, etc. There are more than 100 kinds of materials, whose fine product size is between 325 and 3000 mesh and yield up to 0.7-7.5 tons per hour.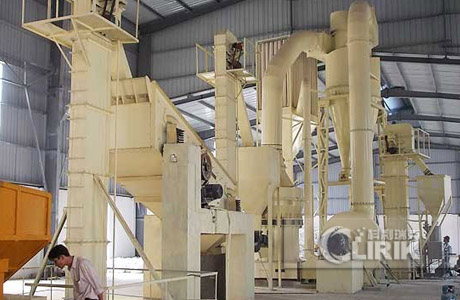 Barite grinding machine's working principle:
After the material is crushed by the elevator into the storage hopper, go evenly into the grinding chamber of host through vibrating feeder, and spaded by the shovel blade into the crushed rubbing between roller and grinding ring. Then fan will blow the powder in the grinding room into the analysis machine to be selected. If some of the material can't reach the fineness, they will be regrinded, qualified powder will go into the finished product cyclone powder collector along with air, and is separated from the air to be discharged. It's finished products. Containing some water, materials would produce a certain moisture during polished, and because the seal is not absolutely tight, the entire pipeline breathe some outside air, which makes the system circulation wind increase. In order to ensure barite grinding machine working usually under negative pressure, the excess amount of wind, after entering the bag filter's purification, will go into the atmosphere.