Barite Powder Production Equipment – Barite Grinding Mill
Barite grinding mill configuration includes a full set of hammer crusher, bucket elevator, storage hopper, vibrating feeders, micro-grinding host, inverter classifier, double cyclone powder collector, pulse dust removal system, high pressure blower, air compressor, electrical control system.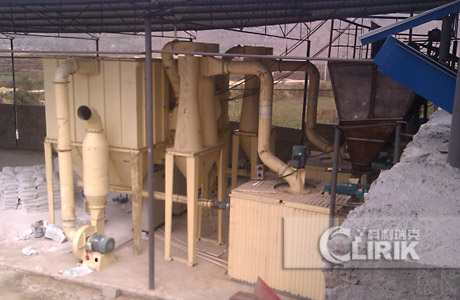 Barite grinding mill's features:
First, final fineness reaches d97≤5μm.

Second, low investment costs, in the same fineness case, less than the jet mill investment, low cost, short payback period.

Third, under the same fineness and power, its output is more than jet mill 45% as many as agitation mill.

Four, the grinding chamber is safe and reliable operation of. The ultra-fine grinding mill, compared with ordinary grinding chamber, has no rolling, no screws, bearings and other seals,
so delicate problem does not exist, which avoids screw loosening of making the machine broken.

Five, it has a low vulnerability. All wearing parts are made of high quality wear-resistant materials from home and abroad, so they have a longer life than ordinary mill equipment, and is generally more than one year.

Barite: Barite is the most commonmineral of barium, barium sulfate its composition. It is produced in epithermal veins, such as quartz - vein barite, fluorite - barite veins, etc., often associated with galena, sphalerite, chalcopyrite, cinnabar symbiosis. Barite deposits of Guangxi, Qinghai, Jiangxi are mostly single huge hydrothermal mineral veins. Barite is also produced in the sedimentary rock, the nodule appears, and more present in sedimentary manganese bed and shallow muddy, sandy sedimentary rocks. Within the residual clay overburden weathered residual deposits, often into a knot, massive.