Barite beneficiation production line
The barite beneficiation production line is a production line for beneficiation and purification of barite ore. Under normal circumstances, the equipment configuration of the barite beneficiation production line includes crushers, vibrating screens, conveyors, silos, feeders, jigs , Desiccant screen and other series of equipment. Shanghai Clirik Machinery Co.,Ltd has very rich experience in barite beneficiation production and beneficiation process and equipment configuration, here is a brief introduction to barite beneficiation production for reference! The following is a comparison of the barite ore before and after beneficiation: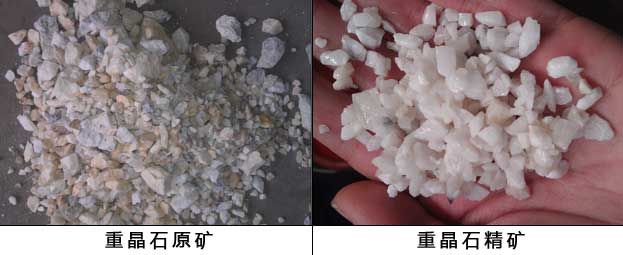 The main component of barite is barium sulfate, which has very important applications in the counterweight, oil well, chemical and other industries, but the native barite mine is difficult to reach due to the specific gravity. The beneficiation treatment must be carried out, and the barite beneficiation production line needs to be established for the beneficiation. The ore dressing production line and the selection process and equipment configuration have strict technical requirements. The barite ore needs to be crushed and sieved. (For barite ore with large mud content, it is necessary to increase the washing process), jigging, dehydration and other processes. The general beneficiation process is coarse-washing-sieving-sieving-jigging-dehydration.
Original barite mine is not capable of direct washing or sieving due to its large particle size, so it needs to be coarsely crushed, and the barite is brittle and brittle during the crushing process. It is easy to produce more powdery materials and reduce the recovery rate of the re-election process. Therefore, the crushing of barite generally adopts the jaw crusher as the main crushing equipment, and the washing machine or the screening process is set after the crushing machine. The screened barite ore enters the jigging washing process. The jig is a beneficiation equipment sorted by specific gravity. It can effectively discard the waste rock associated with barite but with a small specific gravity. Barite. After the jigging and washing, the barite concentrate and tailings are accompanied by a large amount of water discharged from the machine. Therefore, it is necessary to dewater the concentrate and tailings of the jig, and the dehydrated materials can be directly stored or delivery.
Shanghai Clirik Machinery Co.,Ltd is a professional mineral processing equipment Manufacturers, the factory has very rich experience in the process and equipment configuration of barite beneficiation production line and barite concentrator, and can design the production line and equipment configuration of barite concentrator according to customer requirements, free small barite Mineral processing test, welcome to inquire.