Advantages of the new barite ultra-fine grinding mill
Barite is a very important non-metallic minerals, with a very wide range of industrial applications. It is the most common mineral of barium, it is understood, barite can be used as a white pigment can also be used in chemical, paper, textile filler, in glass production can act as a co-solvent and increase the brightness of the glass.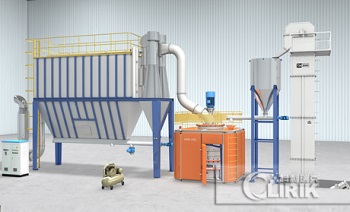 Our barite products occupy a very important position in the market, at present, has been the increasing domestic demand for barite powder. To this end, the limited resources of barite, China should strengthen the modification of ultrafine barite deep processing of research and development, improve the technological content and expand its application areas, enhance the competitiveness of exports.barite grinding mill more and more important.
Shanghai Clirik Machine Co., Ltd.
has developed a
barite ultra-fine grinding mill
. The ultra-fine grinding mill compared with conventional vertical grinding mill and Raymond mill has unparalleled advantages, specifically summarized in the following five-point advantages:
1, high efficiency, energy saving. In the finished size and motor power are the same circumstances, than jet mill, mixing mill, ball mill production more than double.
2, long life wearing parts. Grinding roller and grinding ring made of special material, so that the availability of greatly improved. So is life extended.
3, high product fineness, barite ultra-fine mill product size to reach 2,500 fine for multiple purposes.
4, high security, because the grinding cavity without rolling, no screws, so the bearings and seals its vulnerability there is no problem, but there is no question destruction machine screws loosening.