Barite Grinding mill advantages
Barite grinidng mill advantages: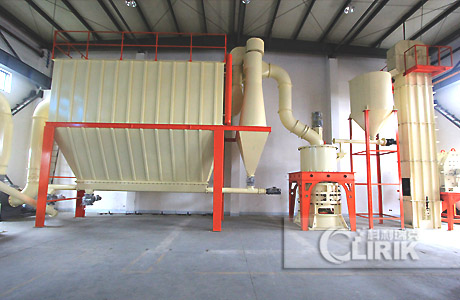 1, barite grinding mill with three-dimensional structure, and compared with the ball mill area is small size;
2, complete sets of strong, expect the finished powder self-contained production system independent from the block;
3, the scope is big, it can grind against the hardness of a variety of materials in 9 below.
4, under high pressure spring, coupled with vertical squirrel cage structure analysis machine, finished by rate greatly improve, no significant particulate.
5, as a system, less production processes, 20mm or less material can be processed directly into the machine.
Barite ginding mill works:
Work will crush large lumps of raw materials to the required feed size, by the bucket elevator to transport materials to storage silos, and then sent to the host of the grinding room evenly by the electromagnetic vibrating feeder, into the grinding room The material is shovel blade is crushed between rollers and into the ring, fans will be blown into the air from the bypass tray grinding chamber, the pulverized powder to the analysis chamber, through the speed motor gear driven by the rotation of analysis sorting impeller, large particles fall back to the grinding chamber material, reground and qualified fine powder with the airflow into the finished product cyclone powder collector, after the separation of air and discharged from the discharge port is finished. Host operation, the blade system has played a very important role. Which is located in the lower end of the roller, roller blade and process with the transfer of the material between the grinding scooped up throwing feed roll ring, forming a litter layer, the material layer by the outward rotation of roller pressure will squeeze the material crushed, so as to achieve the purpose flour.
Shanghai Clirik is a professional barite grinding mill plant,there are many different types of barite grinding machines,if you need you can call us!Clirik welcome you to visit!