Barite powder grinding processing method and processing plant
Barite Use
Barite is a mineral consisting of barium sulfate. The baryte group consists of baryte, celestine, anglesite and anhydrite. Baryte itself is generally white or colorless, and is the main source of barium. Baryte and celestine form a solid solution (Ba, Sr)SO4. Shibang can supply you baryre crusher or barite crusher in barite mining industry.
Barite powder grinding processing method
After crushed by hammer crusher, the large Barite ore materials become small ones and are sent to storage hopper by elevator, and then evenly sent to the upper distribution plate of the turn plate by vibrating feeder and sloping feeding pipe. When the grinding mill is at work, the main bearing and each dial are driven by electromotor through reducer, and all the grinding rollers are rolling in the ring channels driving by dial through plunger. The materials are driven to the edge of the turn plate by the centrifugal force and fall down into the grinding chambers. The high-pressure air blower constantly inhales air, airflow with crushed materials are brought to classifier whose high-speed impeller will screen the airflow: The unqualified particle size will fall and return to the mill for being reground while the qualified particle size mixed with air will go into the cyclone powder collector. Most of the qualified powders will fall and exit from the discharging valve at the bottom; A small proportion of the fine powders, with airflow, moves to the dust cleaner. The materials from the above two lots are sent by the conveyor to get finished powders packed. In addition, filtered clean air will be emitted from muffler in the end.
Barite powder grinding processing plant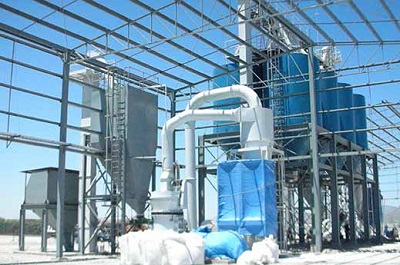 For barite quarry or mining, its better to choose Hammer Crusher and Impact Crusher. The reduction ratio of these barite crushers are generally 10~35. Jaw barite crusher is used for coarse, medium and fine crushing. After primary crush by the barite crushers, you can install barite grinding machine which is decided according to the final particle size requirement. For barite further grinding, there are Ultrafine mill,Ball Mill, Raymond Mill, Coarse Powder Grinding Mill, etc. To separate different sizes of barite final products, Vibrating Screen is usually playing its great role.