Introduce a variety of barite grinding mill equipment
Barite is a non-metallic minerals, its composition is barium sulfate.It is a non-renewable resource,barite is widely used in industrial applications. Barite powder can be used as oil and gas drilling mud weighting agent may be added in a conventional high white pigment lithopone as paints, paints a raw material in the manufacture of barium oxide, barium carbonate, barium chloride, barium nitrate, etc. When the chemical raw materials as a raw material, can be used as a mineralizing agent in the cement industry production, road construction and asphalt rubber mixture can be used as a durable paving material. Barite powder market demand is stable, slow growth, production increased steadily, the economic value is also increasing.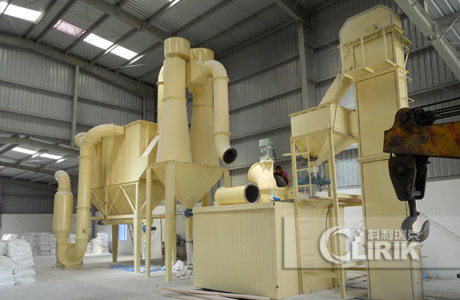 Barite grinding mill
machining equipment preferred Shanghai Clirik the HGM grinding mill, overpressure trapezium mill, medium speed micro powder grinding mill. The three grinding mills of milling equipment is the most advanced of several equipment, according to the machining finished fineness, select a different device can achieve a variety of applications barite powder. European version of the mill focusing on environmental protection, high efficiency; overpressure trapezium mill simple operation, good milling capacity; medium-speed micro-grinding fineness finished, final fineness disposable reach less than 5um. Select Shanghai Clirik barite grinding mill equipment not only to ensure high quality, efficient processing, but also for the future maintenance of equipment provided a guarantee .Shanghai Clirik warranty is one of the largest grinding mill equipment manufacturers, customer-oriented service concept,and maintenance to provide timely and quality services.