What Is The Fineness Of Mineral Powder Grinding And Crushing?
Mineral powder processing plants can be divided into two types. One is crushing plant and the other is grinding palnt. The power crushing equipment smashes the original ore or stone, the stone turns into small particles, and then enters the grinding mill to get the particle size and fineness you need.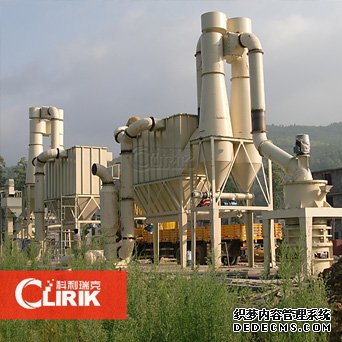 HGM series powder processing plant
is mainly composed of main unit, classification, dust collector, dust collector, induced draft fan, muffler, sound insulation room, crusher, bucket elevator, storage bin and vibrating feeder. After the hammer crusher is broken, the large material becomes smaller pieces and is then sent to the micro-grinding. The granulated material was pulverized and ground to a fineness of 40 mesh size.
Shanghai Clirik Machinery Company is dedicated to the research and production of powder processing plants. We believe that only the major can be focused. In the process of development, ShanghaiClirik Machinery continued to communicate, cooperate with domestic research institutions, design and production, and rapidly improve the ability of commissioning and maintenance engineering. The company's products not only have many customers in China, but also exported to Europe. Countries, the Middle East, South Asia, the United States and southern Africa have won unanimous praise from domestic and foreign customers.