How to Control the Production Fineness and Output of Barite Grinding Mill?
The guarantee to the high efficiency is vital to manufacturers. Hence, the quality of finished size and output is the first priority for manufacturer to consider. Shanghai Clirik barite grinding mill can process materials into 300 to 3000 mesh. Well how to control the production fineness and output?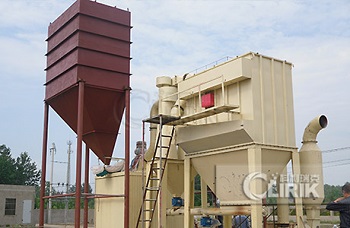 As we all know, the mesh is inversely proportional to the output, if you ant to get higher fineness powder the output will definitely lower. Therefore, in the manufacturing process of barite grinding mill, the adjustment to the wind volume and fineness is need to be frequently carried out. In order to satisfy the demand, we should get hang of the common sense of adjusting barite grinding mill. Here let me tell you how to adjust the fineness of micro powder grinding mill.
You can adjust the diameter of retainer, for the size of its diameter decides the stay time in the crushing room. The diameter more larger, the time for particles to stay loner. Then you can adjust the wind volume. You can adjust the butterfly bamper of barite grinding mill to control the wind volume. At the same time, you can adjust the gap between grading wheel and retainer.
Shanghai Clirik is devoted to the field of micro powder grinding mill, if you are interested in our barite grinding mill and want to know more details of it, please do not feel bother to leave your buying messages and contact information on our website. Thank you.