The Powder Fineness Decides the Price of Barite Grinding Mill
Barite grinding mill has different kinds of models, different model produces different finished powder fineness. Generally speaking, the barite grinding mill with high fineness will be more expensive, namely the powder fineness decides the price of barite grinding mill.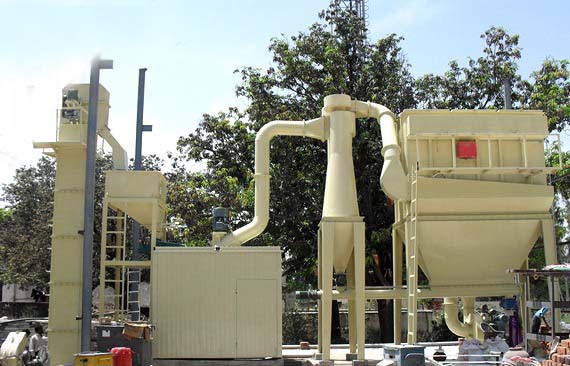 After crushed by hammer crusher, the large materials become small ones and are sent to storage hopper by elevator, and then evenly sent to the upper distribution plate of the turn plate by vibrating feeder and sloping feeding pipe. The unqualified particle size will fall and return to the mill for being reground while the qualified particle size mixed with air will go into the cyclone powder collector. Most of the qualified powders will fall and exit from the discharging valve at the bottom; A small proportion of the fine powders, with airflow, moves to the dust cleaner.
In the production line of barite grinding mill, the demands for finished size are different, which requires us to equip with barite grinding mill with different specifications. In this way, the finished powder with different fineness will meet the demands of different industries.
Actually, the barite grinding mill is the last step for processing finished powder, only through being processed by grinding mill can the finished powder meet the demands in different industries. Therefore, we should choose a right manufacturer according to different demands. Although the barite grinding mill price is determined by the fineness, we should not ignore our requirements to choose the inappropriate one.
If you want to know more about the price information of Shanghai Clirik barite grinding mill, please feel free to contact us or leave your buying demand in our official website. Thank you.